Careers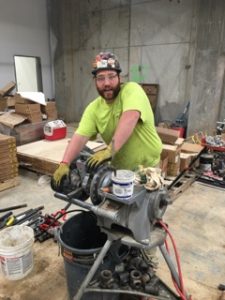 Our employees are our secret weapon at Anderson Fire Protection, Inc. As a business built on establishing long-lasting relationships with our clients, we understand that our employees are the ones that truly perform and deliver results for our clients.
We strive to create a culture of learning for our employees at Anderson Fire Protection, Inc. Our employees receive regular education on current safety regulations and the various systems we install. Our management team has over 100 years of combined experience and are NICET I, NICET II, and NICET IV-certified, so you know you're working with the best. We work on a wide range of different project types, as opposed to specializing in a single type of building or application type. For our employees, this means you gain versatile experience that can be put to use throughout your career in fire protection services.
Work for Anderson Fire Protection, Inc.
We are always seeking entry-level and senior candidates for the following positions:
Fire Sprinkler Foremen
Project Managers
Assistant Project Managers
Estimators
Fire Sprinkler Service Technicians
Fire Sprinkler Inspectors
Fire Alarm Technicians
Fire Sprinkler Mechanics
CAD designers with fire sprinkler CAD design experience
Fire Sprinkler Fitters
To apply, please complete the following form:
4-Year Apprenticeship Program
Anderson Fire Protection, Inc. offers a 4-year apprenticeship program in conjunction with Associated Builders and Contractors, Inc. (ABC) of Metro Washington http://www.abcmetrowashington.org who is our sponsor for this program.
The responsibilities and work of the Sprinkler Fitter consists of the knowledge and ability to install all types of fire protection systems, including the layout and installation of underground fire mains. A Sprinkler Fitter is able to read blue prints and layout and install hangers and overhead piping in all types of buildings and all types of construction. Fire sprinklers are found in high-rises, warehouses, hotels, motels, multi-family, and single family homes.
Qualifications/Requirements
An Applicant for the Sprinkler Fitter Apprenticeship must be at least eighteen (18) years of age. There is no maximum age.
Applicant must have a high school diploma, or a G.E.D., or equivalent in most programs.
Applicant must be in good health and physically able to perform the work of the trade.
Applicants must be able to read and write the English language in order to comprehend instructions on the job and in related instruction classes.
Applicants must have legal employable status in the U.S.
Applicants must possess a current, valid driver's license (at time of dispatch).
Applicants must take and pass an aptitude examination and an oral interview.
When hired, apprentices must have transportation to get to any job in the Baltimore/Washington corridor.
Program
The Apprenticeship program is a four (4) year program. Apprentices must work a total of 8000 hours in four (4) years to reach journeymen level status. Apprentices are required to attend related instruction classes a minimum of 144 hours per year.
Application Process
Applications are accepted on an ongoing basis.
Current Openings
Project Coordinator
A project coordinator position requires managing project labor, material purchasing, scheduling, submittals, change orders, and fire sprinkler system layout. This position also requires working with client project managers, attending client meetings and visiting project sites as necessary.
Responsibilities:
Attend Sales to PM Turnover Meetings as required.
Write purchase orders.
Prepare Requests for Information and Change Order Requests
Prepare and update project schedules.
Work with salesmen, designers and administrative staff.
Prepare material and drawings submittals for Architect and/or AHJ review.
Prepare monthly Project Forecast to Complete estimates.
Perform field surveys.
Attend project specific & company meetings.
Lists all material for fabrication and purchase.
Provide shop drawing to field for installation.
Perform PM to Field turnover meetings.
Qualifications:
Require experience working in a fast paced environment.
Require strong attention to detail and strong organizational skills
Require ability to multitask and prioritize.
Require ability to learn quickly, be resourceful and to take initiative.
Require Self-starter with the ability to work independently, yet comfortable to work within a team environment.
Require excellent oral and written communication skills.
Project management experience in construction industry helpful.
Strong analytical and mathematical aptitude.
Thorough knowledge of NFPA standards.
Familiarity with general construction practices and terms.
Ability to read and understand construction blueprints.
Experience with Microsoft Office and Excel.
Sales/Estimating Position
Sales/Estimating individual will cultivate new business relationships, maintain existing accounts, and ensure the fulfillment of established sales goals through estimating and bidding fire protection projects.  Embrace a consultative selling technique that includes the ability to analyze client needs, communicate appropriate solutions, and facilitate sales to closure.
Responsibilities
Review construction project plans, requirements, drawings, and specifications
Prepare cost estimates and determine project constructability
Secure plans and designs for developing pricing and proposals, acquire subcontract pricing, and comply with codes and permits
Maintain contact with subcontractors of various trades and work to expand list of qualified subcontractors
Establish contact with prospects and potential buyers by scheduling sales calls, following up on leads, and utilizing outlined marketing strategies
Develop positive and ongoing relationships with customers to ensure customer satisfaction
Define customer needs and develop a sales strategy to gain customer understanding of company offerings
Close sufficient sales to meet sales plan objectives
Develop and maintain an active proposal backlog
Maintain historical record of all sales and bidding documents/stats
Provide input to improve company-wide business processes and systems
Submit all required sales reports, data, expenses, and correspondence in an accurate and timely manner
Conduct coordination with other departments to ensure proper handover of job information
Conduct Project Manager functions as required and designated
Qualifications
Three or more years' experience in sprinkler sales, design, and/or project management is required
Experience in commercial, residential and industrial areas of fire protection industry is preferred
Working knowledge of AutoCAD or other specialized fire sprinkler layout software
Proven strong verbal and written communication skills
Self-starter with ability to use independent judgment
Willing to coordinate with other departments in the company, with owners and General Contractors.