Today we are going to be switching it up and spotlighting one of our projects currently under construction.  The project is called The Washingtonian North, located in Gaithersburg, MD. It is a thrilling senior living development that is located in the bustling Washington D.C. suburban market, Washingtonian North will be a 7-story complex with independent living, assisted living, as well as memory care  residences. Supporting areas will include multiple dining venues, wellness amenities, multi-purpose room, that will allow residents to socialize in a safe environment.
The project is over 450,000 sq ft in size.  Our sprinkler system is complete with a fire pump, dry systems, wet systems, a mixture of steel and CPVC piping, and over 5,500 sprinkler heads!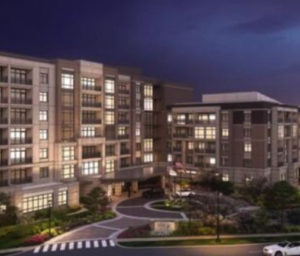 Completion is set for 2023.  We are currently on site roughing in our systems!  This has been a fun one so far!