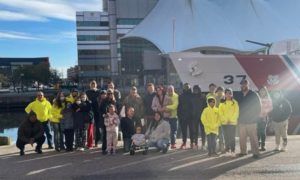 Thanksgiving has just recently come to a conclusion, and we at Anderson Fire Protection have been celebrating in a variety of ways. As part of our Thanksgiving festivities, Anderson Fire Protection has provided to people in need by sending more than 600 turkeys to different facilities.
What Facilities Did Anderson Fire Protection Cater?
We went to all kinds of facilities to help them celebrate the Thanksgiving holiday. Some of the facilities we helped include food pantries, schools, and churches, as well as other people who needed food during the Thanksgiving holiday. We understand that not all people can have the same Thanksgiving meals that other families have, and we wanted to do our best to give these facilities the Thanksgiving experience they deserve!
We Hope Everyone We Served Can Enjoy a Wonderful Thanksgiving!
While Anderson Fire Protection is a company that specializes in fire safety, we love to provide for people in other ways as well. That's why we loved carrying out this turkey donation mission. Thanksgiving is a time that everyone deserves to enjoy, and we hope that, through our efforts, the people we served were able to have a Thanksgiving to look back on fondly.
KEEP YOURSELF SAFE WITH ANDERSON FIRE PROTECTION, INC.
Anderson Fire Protection, Inc. has the expertise and skill to help your home or commercial property for all your fire protection needs. We have been working in the Maryland, Northern Virginia, Southern Pennsylvania, and Washington, D.C. areas for over 25 years. We are known for our top-notch customer service and high-quality results. If you are ready for fantastic fire prevention and protection services, from fire sprinkler installation to fire alarm design and to consult, give us a call at (410) 796-4915 or visit us online.