February is the time when we celebrate Black History Month, and as February comes to an end, we at Anderson Fire Protection want to tell you about a celebration hosted at the Billie Holiday Elementary School in honor of Black History Month.
About the Assembly
Billie Holiday's principal, Denish Logan, was the one who began the assembly. Once the assembly started, Mayor Brandon Scott went up to present a reading to everyone in attendance. The reading was from the book "I Promise" written by Lebron James.
Once the reading was finished, the rest of the time was used to depict various events that helped celebrate Black History Month. There were all sorts of creative and interesting ideas. There were acrostic poems, Motown performances, lessons on the history of the hip-hop genre of music, and a skit for "Still I Rise". We also had other poetry recitals from titles such as "Hey Black Child" by Useni Eugene Perkins.
There were even musical numbers included in the celebration. There were musical scores for "God Bless the Child", "Superstition", and "Respect", which is a song that was made to honor Black Entertainers.
In the finale of the assembly, Denish Logan went back up to provide closing remarks and concluded the celebration.
In Conclusion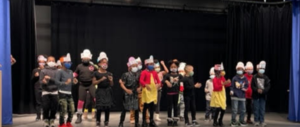 All of us at Anderson Fire Protection had a wonderful time at Billie Holiday Elementary's Black History Month assembly. We saw so many forms of expression, from skits to music to poetry, and more. It was great to see everyone from the students to the staff to the special speakers being a part of this Black History Month celebration, and we want to thank Billie Holiday Elementary for allowing us to be in attendance and experience the event with everyone else there.
KEEP YOURSELF SAFE WITH ANDERSON FIRE PROTECTION, INC.
Anderson Fire Protection, Inc. has the expertise and skill to help your home or commercial property for all your fire protection needs. We have been working in the Maryland, Northern Virginia, Southern Pennsylvania, and Washington, D.C. areas for over 25 years. We are known for our top-notch customer service and high-quality results. If you are ready for fantastic fire prevention and protection services, from fire sprinkler installation to fire alarm design and to consult, give us a call at (410) 796-4915 or visit us online.